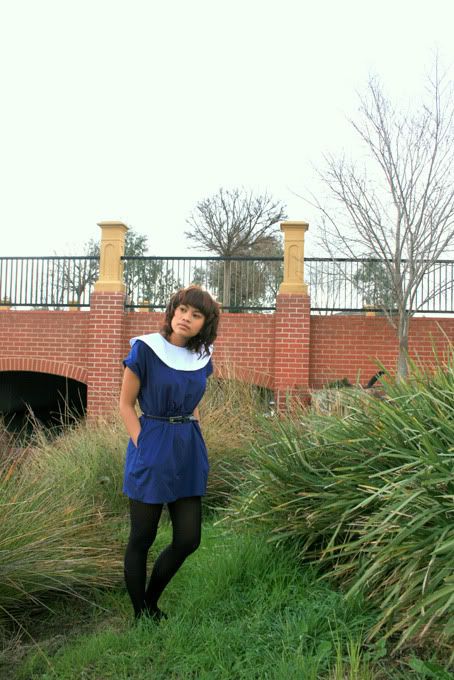 Naming my post by Roman Numeric's is something you would rarely see as I was not taught properly in primary school. Guess I'll have to learn now so excuse me if I do get the numbers wrong.
I'm introducing a new part to my blog which will consist of my projects that I carefully make myself. I'm still all new to the sewing thing but I'm sure I'll learn. These holidays have been so fun for me because I have been able to finish off quite a few of them. This first one is my favourite of the bunch from these holidays because it is the first dress I've ever made! I wore it to Max Brenner's the other night when I was out with my fellow Kidmania Leaders. I would have posted sooner but my close friend had made an utter niusence of herself and threw chocolate fondu on my colar. That's alright, I still love her and though my dress was completely new, I forgive her.
Dress:Handmade//Bag:Thrifted//Belt:Thrifted//Shoes:Cotton On//Stockings:Target//Ring:Thrifted//Camera: Diana F+ via
Ebay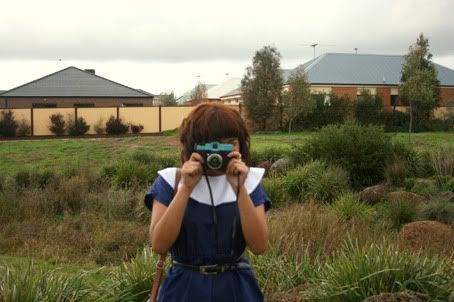 There are many visible faults on this dress, and I do remind it is the first one that I've made so don't throw a hissy fit at me. I know the colar is too big, and the dress is too short, and sleeve ends weren't sewn properly, but I'm still very happy at the result. I laugh at the fact that I made sooo many mistakes on this dress that I used up 3 whole spools of thread when 1 is only needed! It was so much fun and I am thinking of making another one before these holidays come to an end.