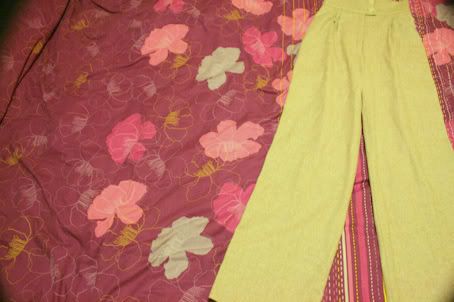 Excuse the mix of warm tones and normal modes. I was in a hurry to take pictures to post up. Also, my apologies for the bad pose for the result picture of the shorts. It's horrific. I shall get a better one up soon...maybe?
So I was inspired to make myself shorts out of used pants that didn't look so good as pants anyways. It was really easy and I'll show you how I did it to mine.


Materials needed:
- Opp-shopped pair of pants or one of your old pairs (preferably 1 or 2 sizes smaller so they raise up a little)
- Sewing machine (or you could do it by hand if that pleases you more)
- Scissors
- Spool of thread
- Pins
- Washable marker
- Ruler

Method:
1) Measure the length that you wish to alter your clothing to with the washable marker.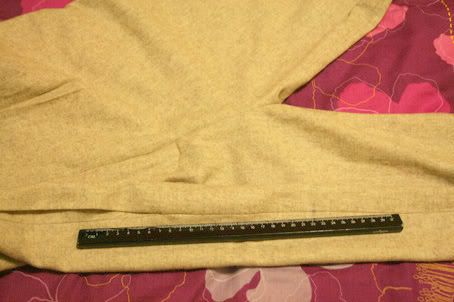 2) Draw a line at least 1 inch from your wanted measurement from outer to inner parts of the pants. Pin the leg together so that when you cut along the line, it will be all even. Cut along the line.

3) Turn inside-out and pin the bottom to make the hem evenly.

4) Sew it down. You can have whatever thickness of the hem you like.

5) Try them on and I'm sure they're ready to use out!

Here's my end result. Excuse me once again for the horrible tones that indoor pictures gave me. Like I said, I was in a rush. But I'm pretty happy with my new pair of shorts.