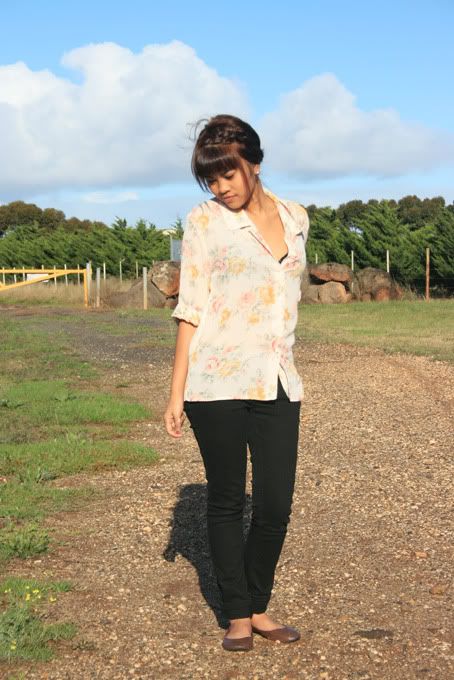 Surprisingly, the start of winter in Australia hasn't been as cold as I thought it would be. It was freezing in autumn but today I witnessed a day of blue skies and fluffy white clouds hovering over me this lovely morning. I woke up at 7 for no particular reason and decided to study for my pyshcology exam which I couldn't stress enough for. Once my parents left to go to church which I couldn't go to due to studying, I got dressed and walked out the door finding the nearest place to take pictures without houses being in the way. Was a windy morning but the sun was warm.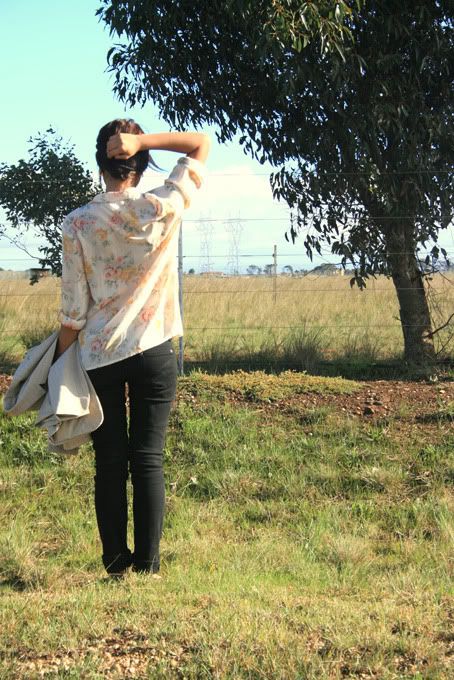 Blouse:Thrifted//Jeans:Jay Jays//Blazer:Thrifted//Shoes:Cotton On
I decided to go to the Salvos during the week and I hadn't any idea of what to buy. I wandered around looking at shoes, jackets, knitwear, pants and shirts and I fell completely in love with this pastel floral shirt which was about $4 and it was a must-have for me. It's 2 sizes larger for me which meant that it could sit and slope down on my body as I am skinny (but I do not boast about it). I never really have any luck at opp shops except for the knitwear section because cardigans are always available in huge or small sizes that accompany the body in cold weather. I found this and another shirt which I won't show you because you'll probably laugh at the contrast of the two tops I bought. I'm glad that I also found a jacket that fit me in an almost-matching colour.
Despite the fact that I was $13 short with the rest of the things I picked out, Mother came to the rescue with a pocket full of money, otherwise known as her wallet. She's a lifesaver sometimes and it's just good to know the privileges of being an only child, though I'm not spoilt.