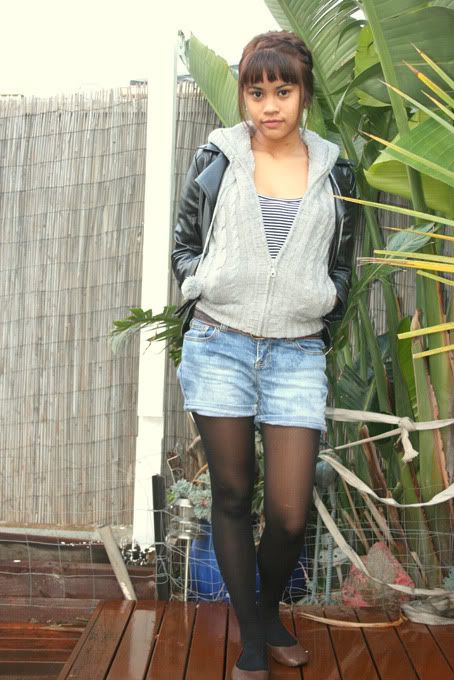 What a relief to finish off my Psychology exam today! I'm quite happy that I have and now I think it's time to burn my notes and be rid of them for good. Well, ok maybe not burn because I hate the smokey smell that stains on my clothes but yes get rid of them. It was just like another SAC really, no difference. The examinors were so nice and they gave us extra time on our exam because we has started late. Last one to do is our GAT which is tomorrow, but ceebs doing it. It goes for 3 hours, 3 hours of multiple-choice and 2 essays. It just ensures us another score if we don't attend our exam due to some severe medical condition.


Shirt:Cotton On//Vest:Hot Options//Shoes:Cotton On//Stockings:Target//Shorts:DIY shorts from old jeans//Jacket:Jay Jays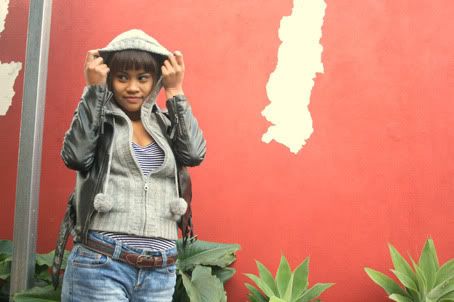 Once again, another dreafully cloudy day with nothing but rain and drepressing shades of grey everywhere. I'm sure that once I get used to this I will somehow find some beauty in the darkness of winter. I guess there should be, there's more rain which means more green and the abundance of green grass satisfies me. I've had my wooly vest sitting in my closet for years now with not an outfit to use with it. After a few uses I felt it became such a tacky piece to my clothing. I cannot believe I took it for granted! It's the warmest top that I've got and I find the little pom poms quite cute actually. Like I said, holidays are coming up and soon, there will be time for everything I want to do...with Inkarri of course. Photos, Food, Hot Chocolates, Oppshopping, Movies and all that whcih we can fnd to do that's interesting. Oh and visit the Time Burton exhibition in the city!!! That'll be the day.